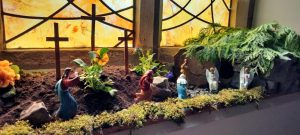 Following Easter, the month of May has a lot to celebrate too.
The King's coronation on the Saturday is followed by a coronation cake at Cores End on Sunday 7 May. Join us at 10:30am for our family service. Bank holiday Monday is also "No Socks" day which I will be celebrating on my own!
Later in the month, Thursday 18 May, is Ascension day, celebrated in many European countries. We remember Jesus leaving his followers. He asked them to spread his teachings of love for God and love for other people. He told them to wait for something special.
At Pentecost (Sunday 28 May), that special package arrived. The Holy Spirit came to Jesus' followers to help and encourage them as they spread the message of God's love. Are you expecting a delivery?